ACCESSORIES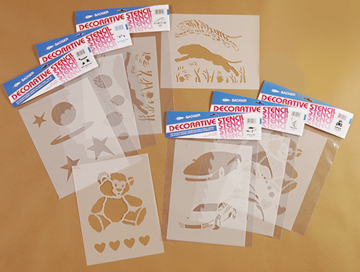 DECORATIVE STENCILS
Decorate anything imaginable with these thin, flexible, washable, laser-cut stencils. Ideal for any stenciling technique including sponges, markers, paint brushes, and airbrushes. Each stencil comes in an 8 1/2" x 11" sheet.
Balloons and Clouds #45-60, Wacky Stars & Planet #45-61, Angel Fish #45-62, Sports Car #45-63, Tiger #45-64, Teddy Bear #45-65, Value Pack Set #45-68: contains 4 stencils - Balloons and Clouds, Wacky Stars & Planet, Angel Fish and Teddy Bear.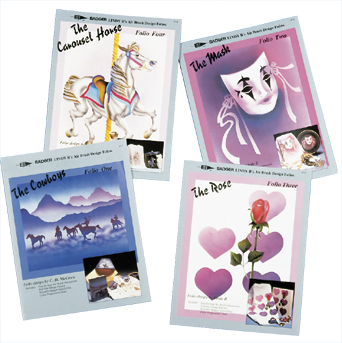 Extremely bright white surface adds vividness to airbrush colors. Composed of durable 50% rag, 145lb. sulfite, Brite Whiteª is usable on both sides and accepts all airbrush media. Sheets of 18" x 24" (45.72cm x 60.95cm) is available in a medium texture cold press (#651) surface. Ten sheets come packaged in a reusable protective chipboard envelope..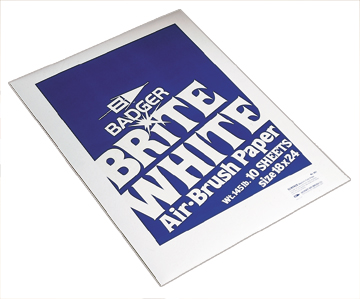 MINIATURE STENCILS
Create miniature airbrushed designs quickly and accurately with these laser-cut stencils. Miniature Stencil Set #48-1 contains four stencil wheels featuring a variety of designs. Stencils are washable, reusable, and an ideal way to produce glamorous, trendsetting airbrushed fingernails, jewelry, etc. 48 wild & glamorous stencils sold separately.
STENCIL FOLIOS
For the beginner or experienced airbrusher, these folios supply everything needed to teach and create craft projects. Each folio includes complete instructions, pattern designs, reusable Badger stencil film and color progression charts. "The Cowboys", #45-1 and "The Carousel Horse" , #45-4 by Cindy McCown. "The Rose", #45-3 and "The Mask", #45-2 by Lindy Brown.