ACCESSORIES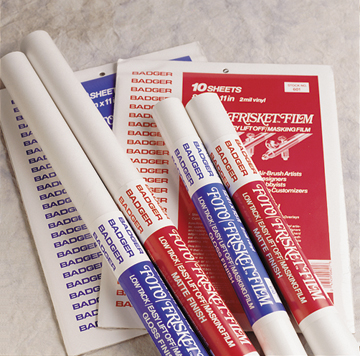 FOTO/FRISKET¨ LOW TACK MASKING FILM
The ideal transparent, self-adhering masking material, specially designed for easy lift-off. It will not lift the surface of already completed work. Foto/Frisket¨ leaves no residue after removal, and cuts with ease. Used by fine artists, illustrators, photo retouchers and others who require precise masking technique.
3/8" to 3" Circles Neg./Pos..... #47-1
1" to 2" Ellipses Neg./Pos........ #47-2
3" Ellipse Neg./Pos.................. #47-3
4" Ellipse Neg./Pos.................. #47-4
10 sheet pack, 8 1/2" x 11" (21.59cm x 27.94cm) #46-1
10 sheet pack, 11" x 17" (27.94cm x 43.18cm) #46-2
12" x 15" roll (30.48cm x 4.572m) #46-3
100 sheet pack, 8 1/2" x 11" (21.59cm x 27.94cm) #46-5
100 sheet pack, 8 1/2" x 17" (21.59cm x 43.18cm) #46-6
Produce a cleaner, sharper edge with Badger's flexible, washable, and durable laser-cut templates (thinner than conventional drafting templates). Each template includes positive and negative shapes. Excellent for technical illustration, photo retouching, architectural rendering, and special effects. The template may be held in place with adhesive, weights, or magnets. Available in sets of four with varying sizes of ellipses and circles.
10 sheet pack, 8" x 11" (20.52cm x 27.94cm) Gloss #600, Matte #601
100 sheet pack, 8" x 11" (20.52cm x 27.94cm) Gloss #605, Matte #606
Rolls of 12" x 14" (30.48cm x 3.556m) Gloss #610, Matte #611
Rolls of 24" x 14" (60.98cm x 4.556m) Gloss #620, Matte #621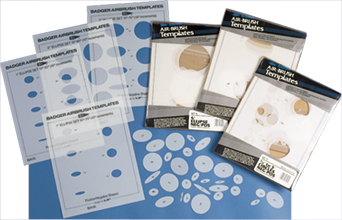 STENCIL CUTTING KNIFE
For cutting stencils and Foto/Frisket¨, and trimming molding off plastic model parts. Includes plastic safety cover. (# 120)
FEATURES
• Cuts easily; will not tear or crack
• "Vellum-like" finish, non-yellowing
• Dimensionally stable
• Reusable and durable mylar
• No ghosting or feathering on redraws
• Will not curl...lays flat
FEATURES
• Matte finish will accept pencil
• Translucent backing for easy stencil
and mask cutting on light boxes
• Available in Gloss or Matte finish
• Will not buckle along film edge, thus preventing underspray
• Long shelf life
NO-TACKª (NON-ADHESIVE) STENCIL FILM
Cut personalized, reusable stencils on this smooth, non-porous, "vellum-like" surface. You can render in nearly all media - airbrush, paint brush, sponge, marker, pencil, pastels, oils, acrylics, etc. Won't tear or stretch out of shape and is highly resistant to most solvents. No-Tackª leaves no ghosting and permits redrawing without feathering.